About
Title: Catwoman: Soulstealer
Author: Sarah J. Maas
Publisher: Random House Books for Young Readers
Blurb:
When the Bat's away, the Cat will play. It's time to see how many lives this cat really has. . . .
Two years after escaping Gotham City's slums, Selina Kyle returns as the mysterious and wealthy Holly Vanderhees. She quickly discovers that with Batman off on a vital mission, Batwing is left to hold back the tide of notorious criminals. Gotham City is ripe for the taking.

Meanwhile, Luke Fox wants to prove he has what it takes to help people in his role as Batwing. He targets a new thief on the prowl who seems cleverer than most. She has teamed up with Poison Ivy and Harley Quinn, and together they are wreaking havoc. This Catwoman may be Batwing's undoing.
My Thoughts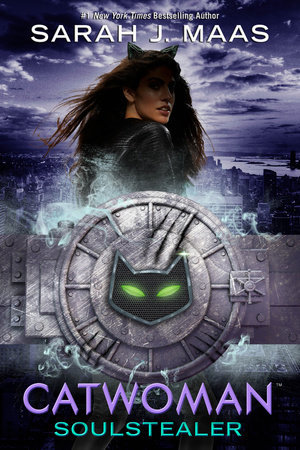 Disclaimer: I haven't read any of the comics, so I have absolutely no idea how accurate Catwoman's portrayal is.
Rating: 3.5 stars!
I hadn't actually planned to read Catwoman. I'm not a big Sarah J Mass fan, her Court of Thorns and Roses series was not for me ( but I did love the first 2/3rd of Mist and Fury). A Court of Wings and Ruin was a horrible mess and I didn't really feel like picking up any of  her other books. But I was curious and my library had it and now we're here.
Surprisingly, I enjoyed Catwoman. It was not a great book, but it kept me entertained and I ended up loving it anyway. It was nothing extraordinary, felt like a typical action hero book, but I loved it.
---
The Writing
One of my main problems with Maas was her writing. Like in Acotar series, she always told us how strong and amazing her characters are, instead of showing us. Literally told. There were actual lines in the books where the character's like "I'm like this and I have to do that because of this mighty reason." And the characters ended up sounding quite obnoxious ( to me ). Catwoman didn't have this problem to an extent. It was there, but was quite tolerable.
I also feel Maas's writing has improved a lot? Catwoman's writing was neater and the plot tighter. And the best thing is her writing is really addictive. So even if you don't like the book, you keep reading on.
---
The Characters
Coming to the characters, I have no idea how accurate the portrayal is. Like I think I've read one Batman comic with Poison Ivy in it, and even I thought her portrayal was not that great.
If you take these characters as individual characters, not as portrayals of comic book ones, they are great. I loved all of them, especially Poison Ivy. But if you are a comic book fan, you'll probably be disappointed? I don't know, don't have your hopes up.
Poison Ivy and Harley shows up a bit late, considering they're one of the major characters. We also get a glimpse of Joker, which was okay-ish. And I felt Poison Ivy and Harley could have had more development. Plus, I wish there was more to their romance.
I loved Luke Fox, but it took a while for me to really like him. He was a great character and I would have loved him more if it wasn't for the writing. Like there is a whole lot of "I'm a billionaire but i'm actually kind-hearted and blah blah". Like I said, it's really low compared to the acotar series, but it's still there and it's annoying.
I had the same problem with Selina, even though I loved her. I wish the impact of their struggles and hardships was shown and not told.
Also, I am a non black POC (and I'm from India), so I'm not sure how accurate Luke's portrayal was. The racism and police brutality faced by the Black community is mentioned several times, but I'm not sure how appropriate it was ( I saw a couple of reviews saying how it was not proper). And I felt Maas could have given more attention to Luke's PTSD.
But overall, I loved the characters. Poison Ivy was probably my favourite, and I think it was a great set of characters. And I absolutely LOVED all the cat jokes by Ivy and Harley.
---
The Plot
The first few chapters shows Selina's life before she became 'Catwoman'. Those were my favourite chapters.
I did like the overall plot, however nothing much happens for like the first 100 or so pages. I didn't really mind, but I do wish Harley and Poison Ivy was introduced sooner.
My favourite parts were all the robberies Selina pulls off with Harley and Ivy. They were so much fun to read, especially how Luke kept failing to catch them. It was very entertaining and I couldn't put it down. I read the last 100 or so pages in one sitting!
But what bothered me was…Okay so there's this HUGE thing, let's call it X. Now, X is like super important and one of the reasons Selina does what she does throughout the book. And it's a BIG thing! But it's just there in the last few chapters? Like I get that it was not mentioned to maintain the mystery, but it didn't exactly work for me. Like'X' is almost a miracle and it wasn't given much time? I felt like someone just punched me in the face?It would have been nice if there were little clues throughout the book.
Also, I wish there wasn't any romance between Selina and Luke. I do think they're cute together, but sort of like how you ship characters in movies just because they have great chemistry. I guess there's no sequel to this, which was why it was rushed (I guess?). But ideally , I would have liked Selina and Luke to have the 'will they/ won't they' romance, where they keep flirting/ roasting each other. And then in the sequel they slowly fall in love or something. I felt it was rushed, I love them together but I wish it was developed more.
---
Overall, I enjoyed Catwoman: Soulstealer. It was a surprisingly fun ride. I do recommend giving it a try.
---
Let's Talk!
Have you read Catwoman: Soulstealer? Did you like it? Do you plan to? Have you read any other Sarah J. Maas books? Tell me in the comments!
Twitter / Goodreads / Tumblr / Pinterest / Instagram