Hey guys!
Welcome to another Top Three Thursday! This is a fairy new meme hosted by @acosyreader. So please participate!
This week, I'll be listing my favourite fictional animals!
And while doing this, I just realised I haven't read that many books with memorable animals? I will need to rectify that soon. So don't forget to tell me your favourite fictional animals so that I can check them out!

So Grimalkin doesn't exactly look like this but it's how I imagine him in my head. He is a cait sith and helps our main characters in The Iron Fey series. What I love about Grimalkin is how he doesn't really care about anything. He comes and goes as he pleases, is sarcastic and really done with the characters' bullshit. He is the highlight of the series and I hope you check them out!
I know Cerberus is supposed to be this big scary three headed dog that guards the gates of hell. But after Percy Jackson, this is how I imagine them in my head. Cerberus is so adorable in the series and Annabeth trying to get past them was one of my favourite scenes!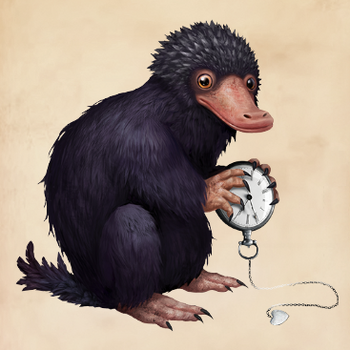 Niffler was my favourite part of Fantastic Beasts. It's so adorable! Everytime Niffler was on screen I was like 'Awww…' and my heart basically exploded with the cuteness!
So these are my favourite literary animals. Which are yours? Do we have any in common? Tell me in the comments below!
Twitter / Goodreads / Tumblr / Pinterest / Instagram