Laini Taylor, a self-described "writer-artist-daydreamer-nerd-person," is an American author and artist located in Portland, Oregon, USA. She is the creator of the Daughter of Smoke & Bone series. Along with Daughter of Smoke & Bone, she has also written 3 previous novels: Blackbringer and Silksinger in the Dreamdark series, as well as National Book Award finalistLips Touch: Three Times.
Around the world, black handprints are appearing on doorways, scorched there by winged strangers who have crept through a slit in the sky.

In a dark and dusty shop, a devil's supply of human teeth grows dangerously low.

And in the tangled lanes of Prague, a young art student is about to be caught up in a brutal otherwordly war.

Meet Karou. She fills her sketchbooks with monsters that may or may not be real, she's prone to disappearing on mysterious "errands", she speaks many languages – not all of them human – and her bright blue hairactually grows out of her head that color. Who is she? That is the question that haunts her, and she's about to find out.

When beautiful, haunted Akiva fixes fiery eyes on her in an alley in Marrakesh, the result is blood and starlight, secrets unveiled, and a star-crossed love whose roots drink deep of a violent past. But will Karou live to regret learning the truth about herself?
My Rating: 5/5
"Once upon a time, an angel and a devil fell in love.

It did not end well"
I was amazed after reading Daughter of Smoke and Bone. Wow! Laini Taylor mixes angels, demons, forbidden love, action and mystery perfectly to produce a captivating, intriguing story.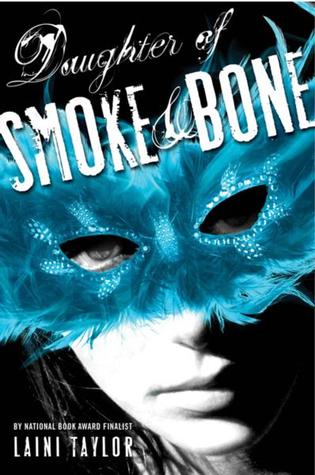 I admit, I was dubious about reading this because of the `angel' factor. I've only read one book that has angels in it (hush hush) which I didn't like. Plus there were so many bad reviews for others (halo and fallen). So anything with angels, I was reluctant to read. But after I read this, I wondered why I didn't read it sooner.
When I read the title and the first line, I thought the story would go along the lines of this- an angel and a demon fell in love, had a daughter that had something to do with smoke and bone. But when I learned the real meaning of the title, I was awed! It's so amazing! I actually kinda felt stupid.
There are so many things I loved about Daughter of Smoke and Bone:
1)Portrayance of Angels: I find that books with fallen angels or angels don't explore the concept fully. The plot is not well built. And some are shy to involve too much 'god' in it (like in the mortal instruments, I wanted know more about the history of nephillim , angel raziel and all). Any explanation given is vague.
I love of Taylor portrayed Angels and Demons as a different species from another world. It was told so well! And she doesn't shy away from all the gory scary details:
"It was all but naked, a bloated torso with reedy arms wrapped tight around the human's neck. Useless legs dangled behind and its head swollen taut and purple, as if it were engorged with blood and ready to pop in a great wet burst. It was hideous"
Yeah, hideous is an understatement. And yes, that's how fallen angels are supposed to look like. They are definitely not supposed to be hot and strong, like it is depicted in most books. I mean, if you did something so horrible, that your mates want to throw you out, I highly doubt they are going to give you a pat on the back and a free ride to earth. They will probably rip you to pieces.
So yeah, angels and demons were portrayed perfectly.
2) I really liked how Taylor explored the concept of right and wrong.
"Once upon a time, a little girl was raised by monsters. But angels burned the doorways to her world and she was left all alone."
I had a hard time choosing sides- angels or demons? Who was right and wrong? For akiva, the demons were evil as they destroyed his kingdom. But for karou, the angels were evil as they destroyed the only family she had. And the way the angels and the demons were forced to live? I felt depressed. Good and bad, right and wrong did not actually exist (I felt).
3) I loved all the characters. They worked well with each other and the story. At some points, I felt they were one, you know?
Now, the only thing I did not like was the insta love, (which I discovered was not insta love, but much farther in the book).
And finally, Taylor's writing. It's so beautiful! When the world of demons and angels and how they lived are told, I felt sadness, anger, hopelessness, dread. I felt the pain akiva carried and karou's loss of her family. And when akiva and karou finally reunited, I felt happiness and joy. I didn't feel I was reading a book, but was seeing their story unfold from afar. That's how great the writing is.
Daughter of smoke and bone is undoubtedly one of my favorites. And if you haven't read it, what the bloody hell are you waiting for?