Author: Wendelin Van Draanen
Published :October 1st 2001
Publisher: Knopf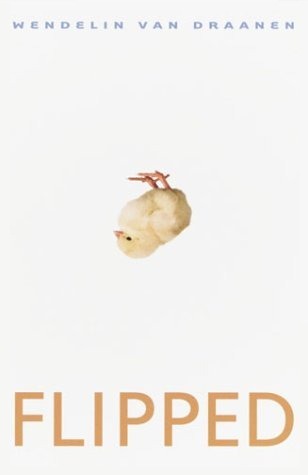 Flipped is a romance told in two voices. The first time Juli Baker saw Bryce Loski, she flipped. The first time Bryce saw Juli, he ran. That's pretty much the pattern for these two neighbors until the eighth grade, when, just as Juli is realizing Bryce isn't as wonderful as she thought, Bryce is starting to see that Juli is pretty amazing. How these two teens manage to see beyond the surface of things and come together makes for a comic and poignant romance. 
My Rating: 4/5
Note: I read this way back in January.
"Some of us get dipped in flat, some in satin, some in gloss…." He turned to me. "But every once in a while, you find someone who's iridescent, and when you do, nothing will ever compare."
Aww…. Flipped is the cutest story I've read so far. This was my first read for 2016 and it was so good! It was a slightly different read for me a I mostly read YA, where the characters are mostly 15- 16 years and here the main characters were 8th graders.
I first show Flipped somewhere on my Goodreads recommendations. The synopsis did not pique my interest so I left it at that. One day I did not go to school as I was sick. So I obviously watched T.v all day. Flipped(the movie) was running and I loved it so much! The storyline sounded really familiar so I googled it and Lo! It is a book! And the rest is history.
You know that feeling when you drink hot coffee on a rainy day and you feel so happy and content? That's how I felt after reading Flipped. I mean, its not perfect. Not by the long shot. But it made me feel warm and fuzzy and so happy! I think that's what matters.
"…and I realized that Garrett was right about one thing- I had flipped.
Completely."
I loved how the story was narrated, with POV of both the characters for each scene. It was nice, getting a glimpse of what they were thinking and I feel the author did the job quite well.
So the story is about Julie Baker and Bryce Loski, their various interactions over the years and how their opinion of each other changes. It was fun reading the parts where Julie realises Bryce is not so perfect as she thinks and the par where Bryce realises Julie is not that annoying.
"It's easy to look back and see it, and it's easy to give the advice. But the sad fact is, most people don't look beneath the surface until it's too late."
There was a wide array of side characters that was really well developed and had their own unique personality.
The only thing I didn't like was the ending which I thought was better done by the movie. I just wanted more closure.
Would I recommend it?
Yes! This is the kind of a short lazy summer read I feel you should definitely try.
Have you read Flipped? What do you think of it?( or just link your review in the comments)
or do you plan on reading Flipped?