Title: Daughter of Smoke and Bone
Author: Laini Taylor
Publisher: Little, Brown Books for Young Readers
Publication Date: September 2011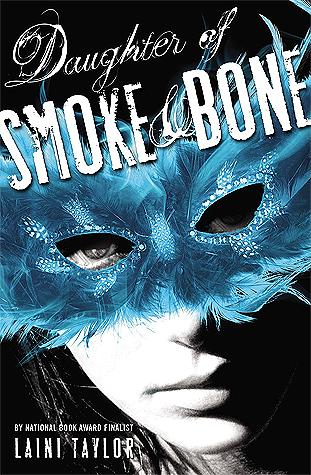 Around the world, black hand prints are appearing on doorways, scorched there by winged strangers who have crept through a slit in the sky.

In a dark and dusty shop, a devil's supply of human teeth grows dangerously low.

And in the tangled lanes of Prague, a young art student is about to be caught up in a brutal otherworldly war.

Meet Karou. She fills her sketchbooks with monsters that may or may not be real, she's prone to disappearing on mysterious "errands", she speaks many languages – not all of them human – and her bright blue hair actually grows out of her head that color. Who is she? That is the question that haunts her, and she's about to find out.

When beautiful, haunted Akiva fixes fiery eyes on her in an alley in Marrakesh, the result is blood and starlight, secrets unveiled, and a star-crossed love whose roots drink deep of a violent past. But will Karou live to regret learning the truth about herself?

– Summary from Goodreads
I reread Daughter of Smoke and Bone (henceforth referred to as DOSB) with the lovely @orangutan librarian. It was so fun, mainly because she's so amazing! (Go give her a follow here).
I first read DoSB 2 year ago. I loved it so much then. I remember being drunk on the lyrical prose. I remember wanting to be like Karou, get my hair dyed blue and eye tattoos on my palms (In fact, I used to draw them on my palms with pen and pretend they had real magic).
For some crazy reason, I didn't continue with the series.
A few months ago, I was going through my Goodreads list, looking for books to reread. When DoSaB came up, I was shocked to find that I remembered nothing! NOTHING! I didn't even remember the character's names! Appalling, I know!
I love rereads because I feel I'm able to relax and enjoy the books more. I'm not rushing through it, dying to know what happens.
So I was able to enjoy DoSaB more this time.
My favourite is of course the writing. It's so, so pretty! Taylor's world of Angels and Demons is vibrant and alive because of her beautiful prose.
I really want to visit Prague after this (@orangutanlibrarian has and I'm so jealous). I remember this kid from my class got to go to Prague as part of this student exchange program. I was dying from envy lol.
My favourite part was the back story, the flashbacks surprisingly. I enjoyed it more, while the last time it was my least favourite part.
My only problem was that the romance was a bit rushed. I was annoyed and it put me off. But after all the flashbacks and stuff (Madrigal and Akiva's story), I fell in love with it.
Again, Madrigal and Akiva's romance is instalove. But the way it is told makes all the difference. Like, you don't question why the prince needed Cinderella's shoe to find her. Hadn't he seen her face? (or am I missing some part of the story?). Taylor's writing makes Madrigal and Akiva's story seem like a fairytale.
I LOVED this book so much! I'll be picking up the rest of the series soon!
"Hope can be a powerful force. Maybe there's no actual magic in it, but when you know what you hope for most and hold it like a light within you, you can make things happen, almost like magic."
"It is a condition of monsters that they do not perceive themselves as such. The dragon, you know, hunkered in the village devouring maidens, heard the townsfolk cry 'Monster!' and looked behind him."
"Happiness. It was the place where passion, with all its dazzle and drumbeat, met something softer: homecoming and safety and pure sunbeam comfort. It was all those things, intertwined with the heat and the thrill, and it was as bright within her as a swallowed star."
Have you read Daughter of Smoke and Bone? What did you think of it? Do you plan to read it?
Twitter / Goodreads / Tumblr / Pinterest / Instagram