Title: The Iron Butterfly
Author: Chanda Hahn
Publisher: Word Circus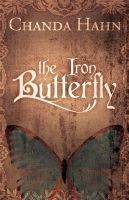 Summary from Goodreads:
Imprisoned, starved and left with no memories, Thalia awakens to find herself at the mercy of an evil cult known as the Septori. Their leader has chosen Thalia as the test subject for a torture device of untold power, designed to change and twist her into something that is neither human nor Denai.

Escaping, Thalia finds an unwilling warrior to protect her and an unlikely Denai to befriend her. After finding a home at the Citadel as a servant, Thalia's worst nightmare comes to life and she begins to show signs of power. Scared and unable to control her gifts, she tries to hide her past to fit in among the Denai. But the Septori want their latest test subject back and will stop at nothing to retrieve her, dead or alive.
"Down in this hell, silence was more than golden; it was the difference between life and death."
Chanda Hahn is one of my favourite authors and I adore her 'An Unfortunate Fairytale' series. So I was really looking forward to reading The Iron Butterfly, which unfortunately didn't win my heart.
The Iron Butterfly follows Thalia's journey after she escapes torture and imprisonment by a mysterious group called the Septori.
I felt the first few chapters were the best part. The world Hahn creates is both new and captivating. I enjoyed Thalia's journey to the the Citadel, along with Joss and his uncle.